Hello everyone,
I have recently been acquiring a number of Indie brand items and thought it would be worth doing a review encompassing all of them- as it would be a good way to compare price/quality.
I am more focused on the quality of the item, rather than the transaction, so that part will be brief unless something of note happened. Most items have been worn before the review to test for durability.
I should also note, my photography skills are lacking and I only have my iphone, but I've done my best.
Lusty in Wonderland- Figure de proue jsk
* Note this happened last winter so I don't remember all the details, however I wanted to include it for comparison. *
I won this jsk in a giveaway on facebook. I didn't however get the message as it was in my other box and found it months later. Very sad about missing my chance I messaged Lusty in Wonderland, who told me I could still have the jsk- however the color I had won had sold. I ended up choosing in blue. The jsk was packed and shipped in a timely fashion and was pack securely.
The Jsk is a lovely light blue chiffon, with a crisp white underskirt. The measurements were true and I have yet to find fault other than one or two stray threads on the skirt.
Stock Picture: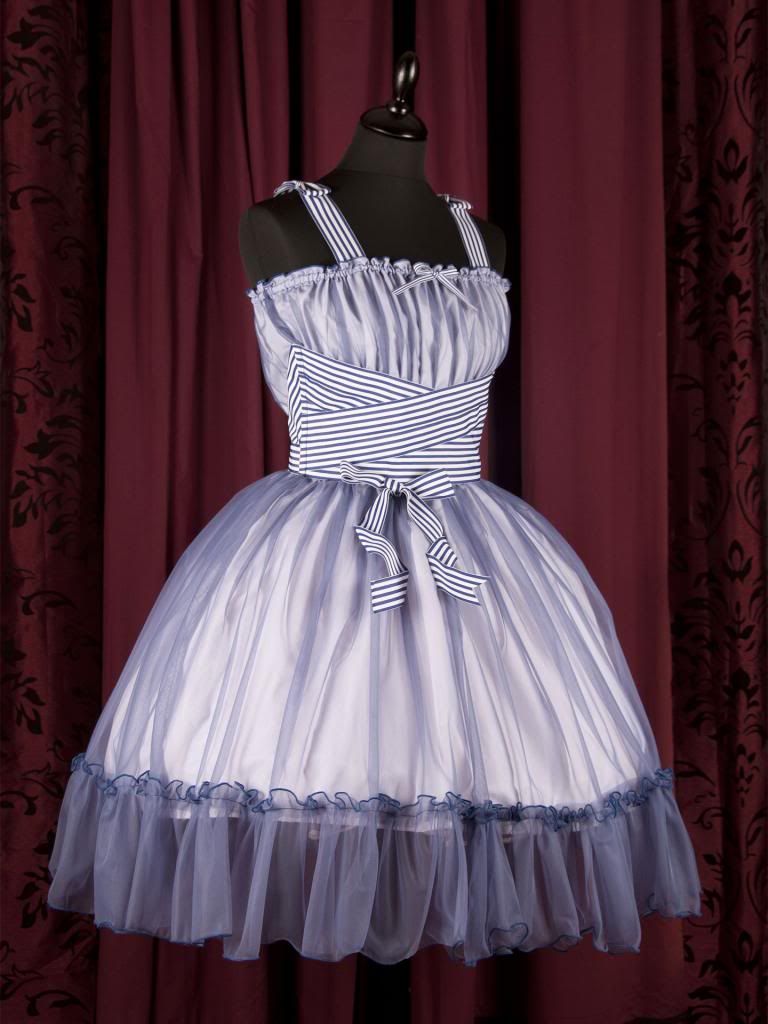 My picture: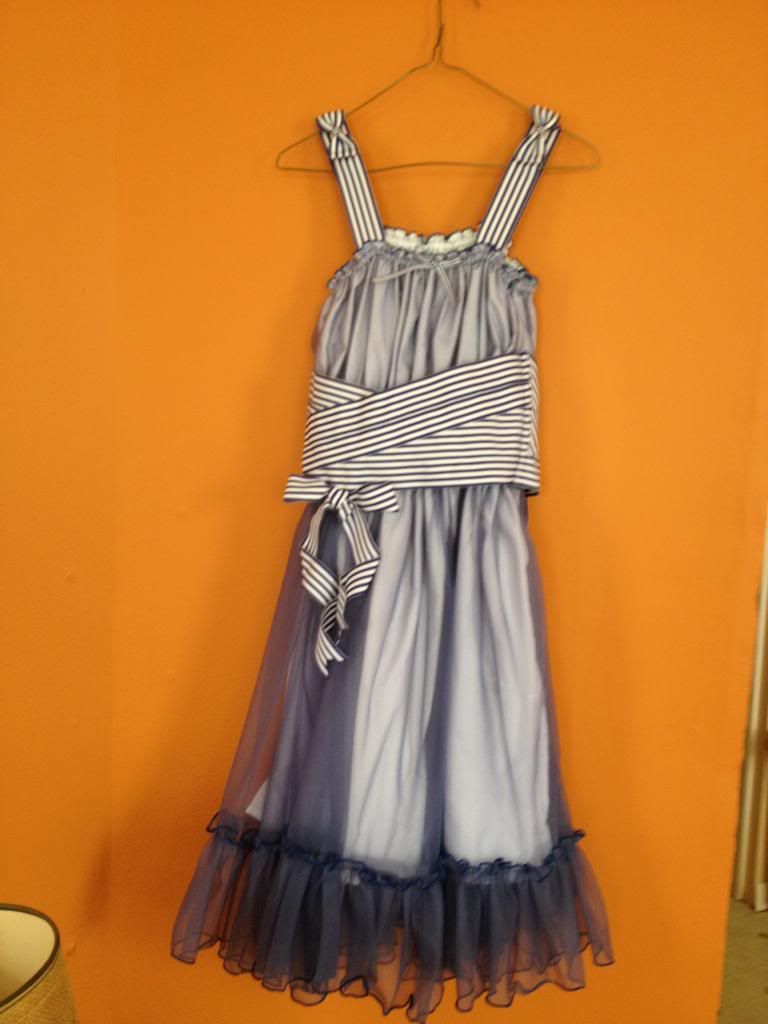 Inside out picture: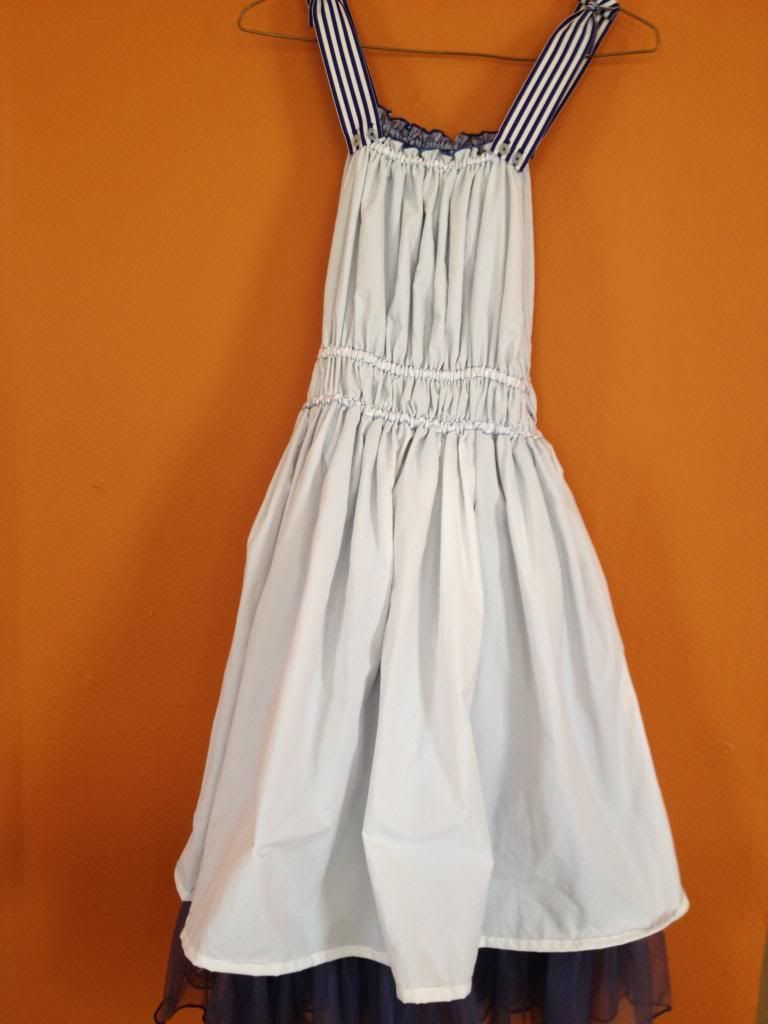 Rating:
Construction: 5/5 – seams are straight and true, no loose threads, very nicely done.
True to stock/fit: 5/5 – exactly the same as stock, measurement are true
Biggest flaw: underskirt wrinkles easily.
Total: 10/10 + 10 bonus points for being awesome and sending it to me months later.
Sweet Mildred- lucky pack (Etsy)
Accessory lucky pack- Black and white stripes and solids.
Cost: $45+ 5 shipping.
I ordered on July 28th, shipped on the 12th and I received it yesterday. I made a note on my order asking if the lucky pack could be hair accessory focused, Sweet Mildred responded quickly saying the whole thing could be if I didn't mind waiting a little longer. I didn't have a problem with waiting, and told her that would be fantastic.
The lucky pack arrived in a semi-squashed box (grrr at the post), but inside was a perfectly safe, paper bag, tied with a blue ribbon. The four headbands I received were safely nestled inside.
I received the following:
Picture: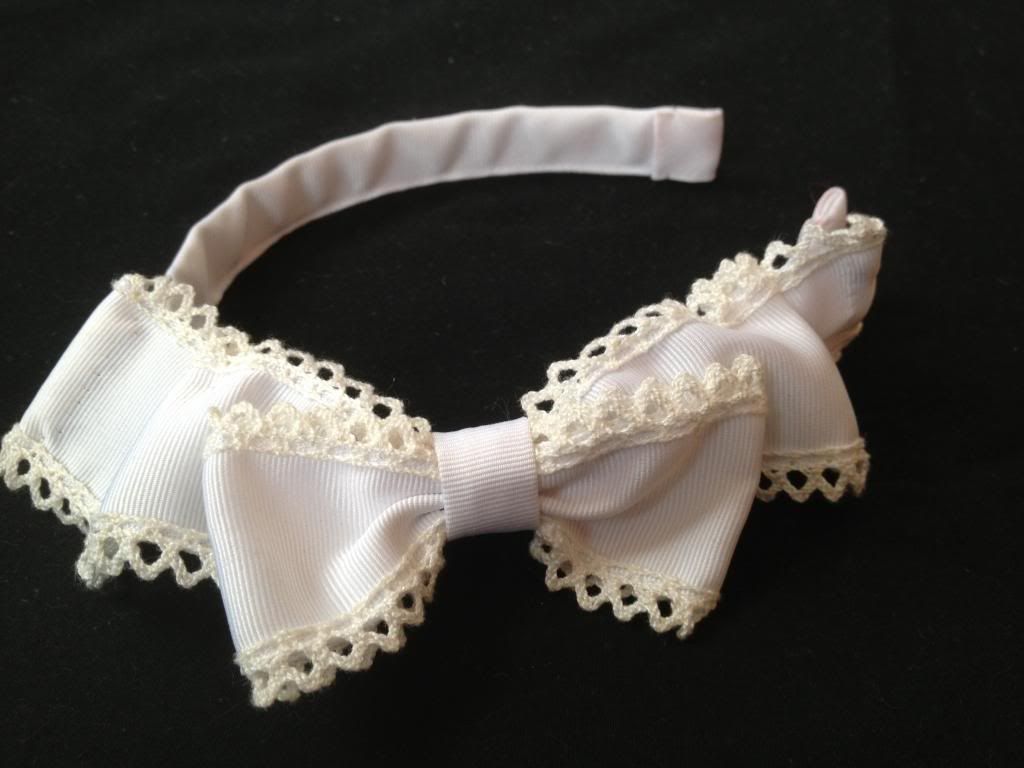 Bow and headband are pure white with off white lace, very well made, comfortable and cute. I like the more understated bows the best, and this will happen to match one of my jsks very well
Picture: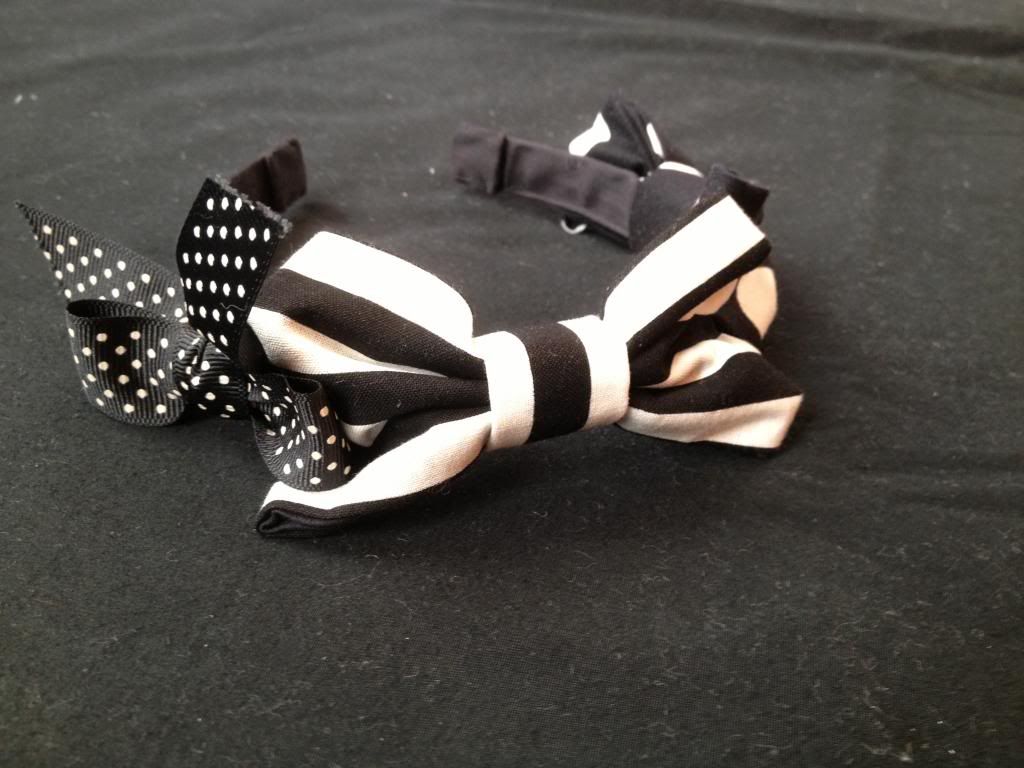 Three bow on a headband, also well made, comfortable, and versatile. I love that the three bows are made of different fabric, patterns and sizes. It will be easy to coordinate in my wardrobe and I think add interest to an otherwise plain outfit.
Picture: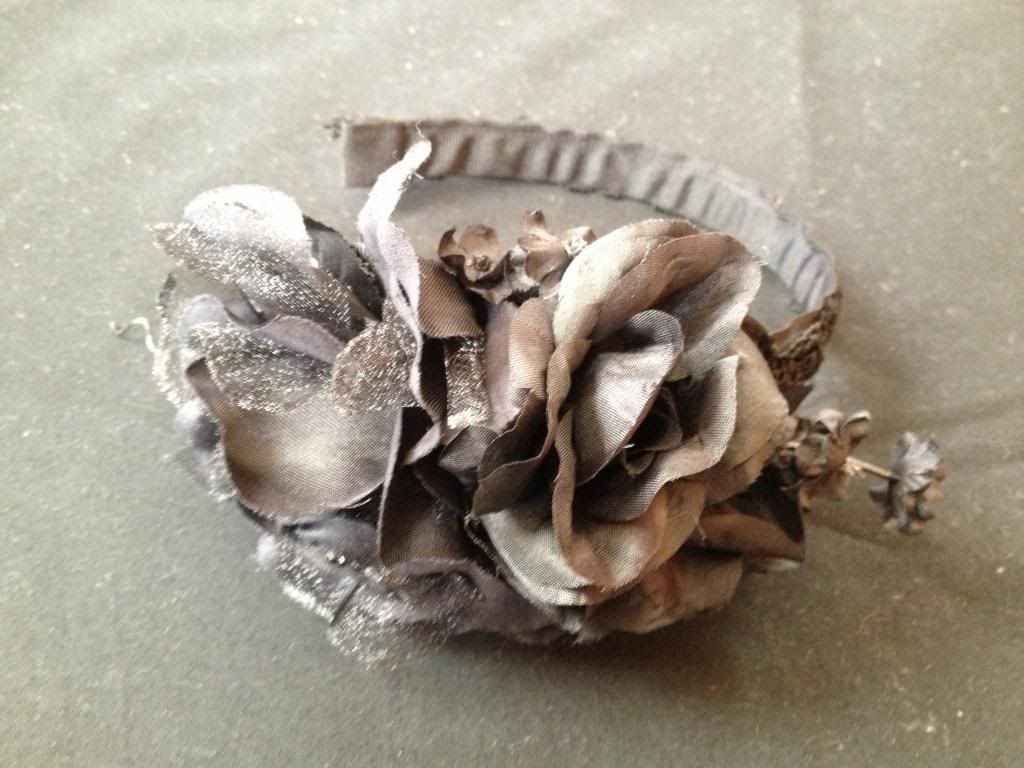 A stunning arrangement on black flowers, with black lace. My favorite piece that I received. It's a larger piece and I was worried as I have short hair it would be overwhelming. Not so, its elegant and very well constructed. Small flaw: some glue can be seen through the black lace in one or two spots. It's unnoticeable if you aren't looking for flaws.
Picture: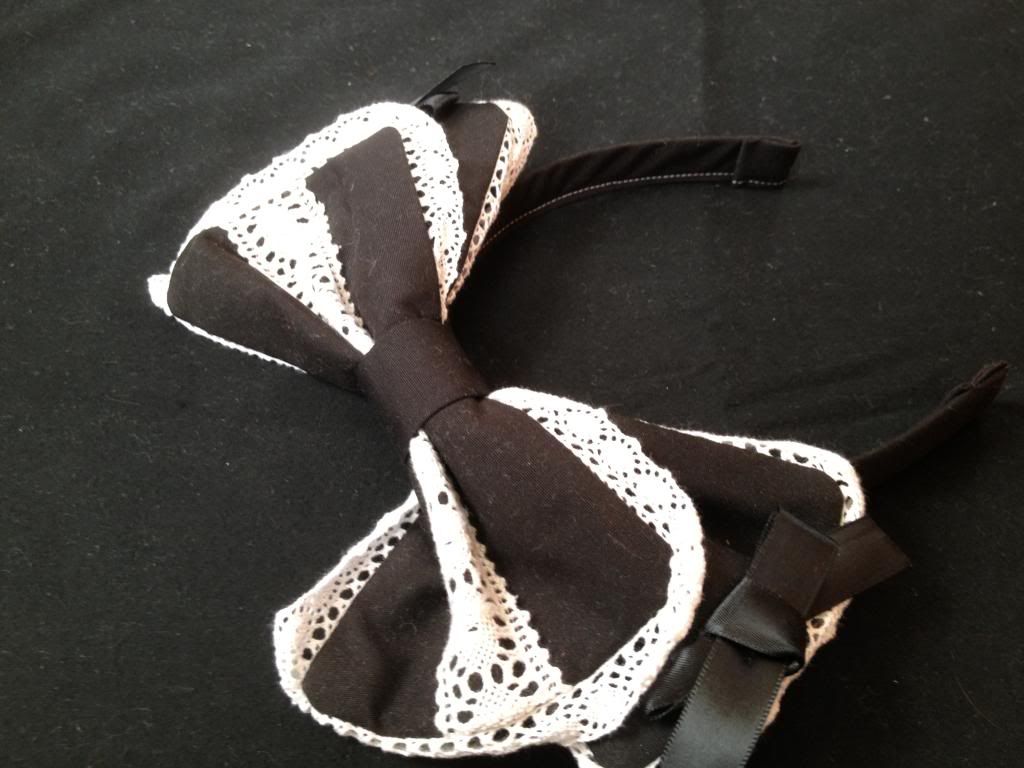 A very big black and white bow. Holds its shape, and is stitched in place on the head band.
This one is a little big for my taste as it overwhelmed my head. I will be selling this one, but I think someone will adore it.
Rating:
Construction: 4.75/5 -.25 for hot glue
True to stock: N/A- lucky pack
Communication: 5/5- getting to specify what I liked best was a nice touch
Shipping: 5/5- packed nicely and shipped in a timely manner.
Biggest flaw: minor hot glue
Total: 14.75/15
Would recommend, would buy from again. That Bridge to Antiquity Jsk will be mine.


Ick by Industrial Kitty- custom Jsk and Shorts
Negative
I was looking to sell or trade the Lusty in Wonderland jsk- as stunning as it is, the blue combined with the style is too sweet for me, and sadly the blue clashes horribly with my red hair.
She asked if I would be willing to trade for one of her items. I really liked her work but saw nothing that would fit my wardrobe. I asked if she would be willing to do a commission as trade and she agreed! We discussed what would be a fair trade, and agreed on one jsk and pair of Kondona shorts.

I wanted the jsk to be tartan, and was sent a huge number of fabric options to choose from, I like them all- it was a difficult choice. I also sent a few reference pictures. Once I picked the fabric for the jsk, and shorts- plain black. The commission was initiated on June 28th. Things were shipped on the 30th of August ( due to issue shipping ) They were posted express and a few accessories were included to make up for the delay.
After finding sewing errors on the jsk I sent it back to be fixed. I sent it back near the beginning of September. And it arrived again on Nov. 1st.
Shorts: I really like them they are made out of a thick cotton twill and fit nicely. And They have pockets!

However:some seams are finished others are not. The waistband and cuffs are very nicely done, but when you turn the pants inside out all the interior seams are not finished. One pocket is surgered about ¾ of the way around the other has no finishing at all. There are some loose strings. I have not worn these yet as I want to zig zag the edges to prevent fraying beforehand.

Jsk: Very wearable which I appreciated. The fabric I picked turned out to be kind of skratchy but it doesn't matter if you are wearing a blouse and underpinning. It also has pockets. I did find a few sewing errors, and the bodice was big. I pointed these out and sent it back to have them fixed. I shipped the jsk back and it returned with more sewing errors.

JSK round one: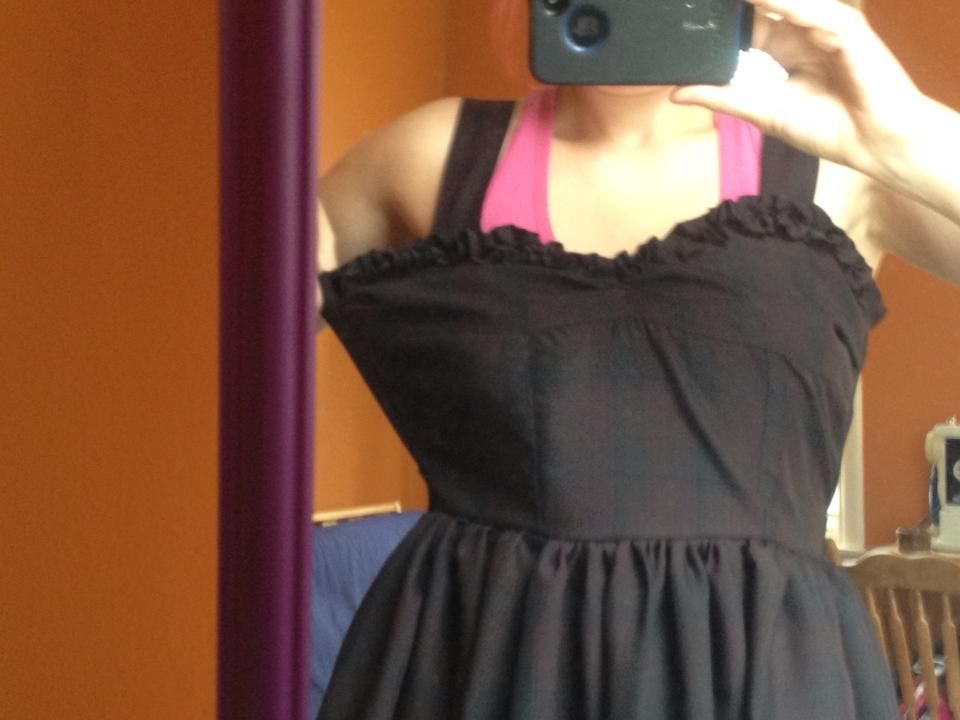 Jsk round two:
(personally I think the fit is super awkward..... and kinda makes me look bigger then I am)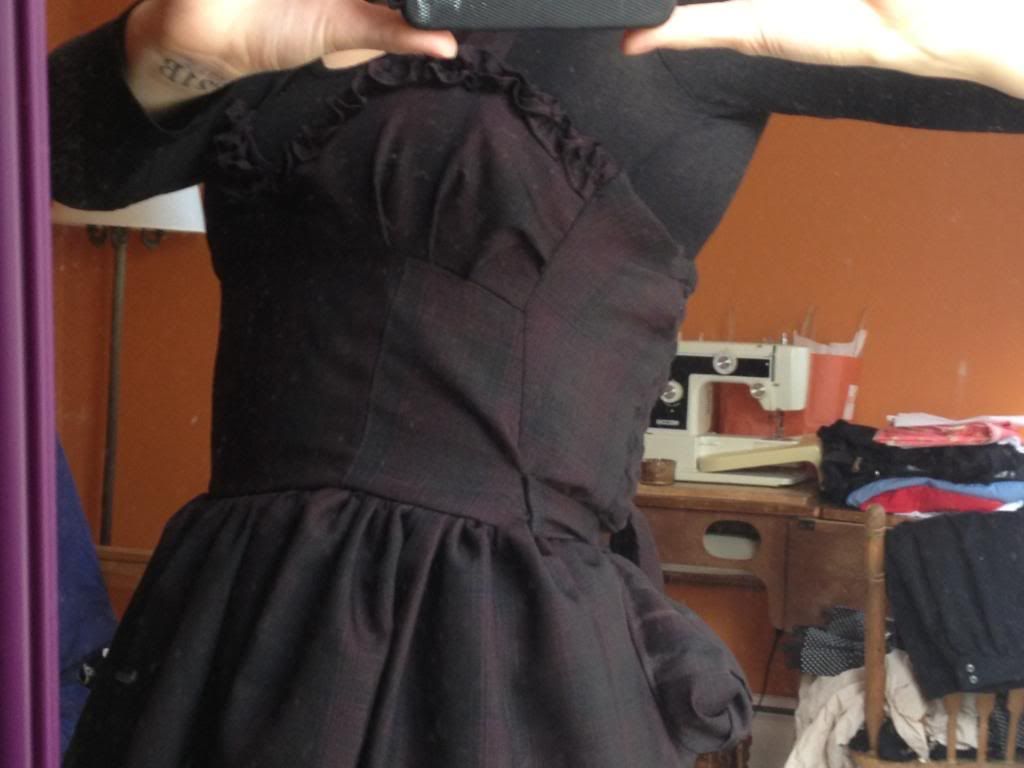 Bodice errors 1 and 2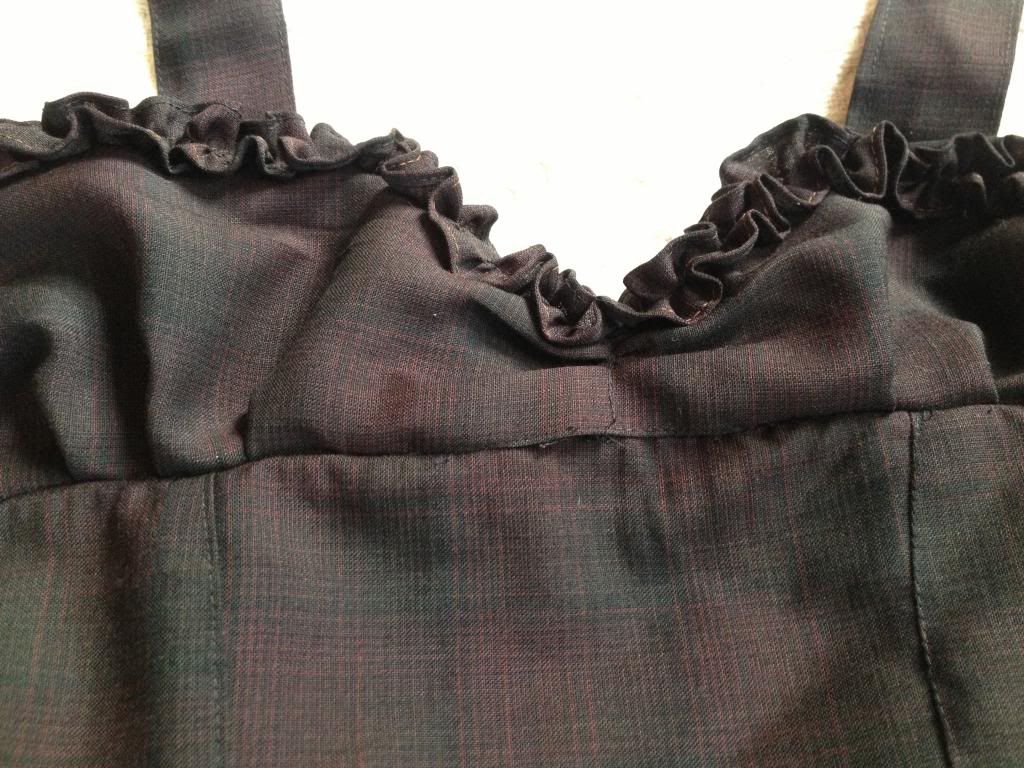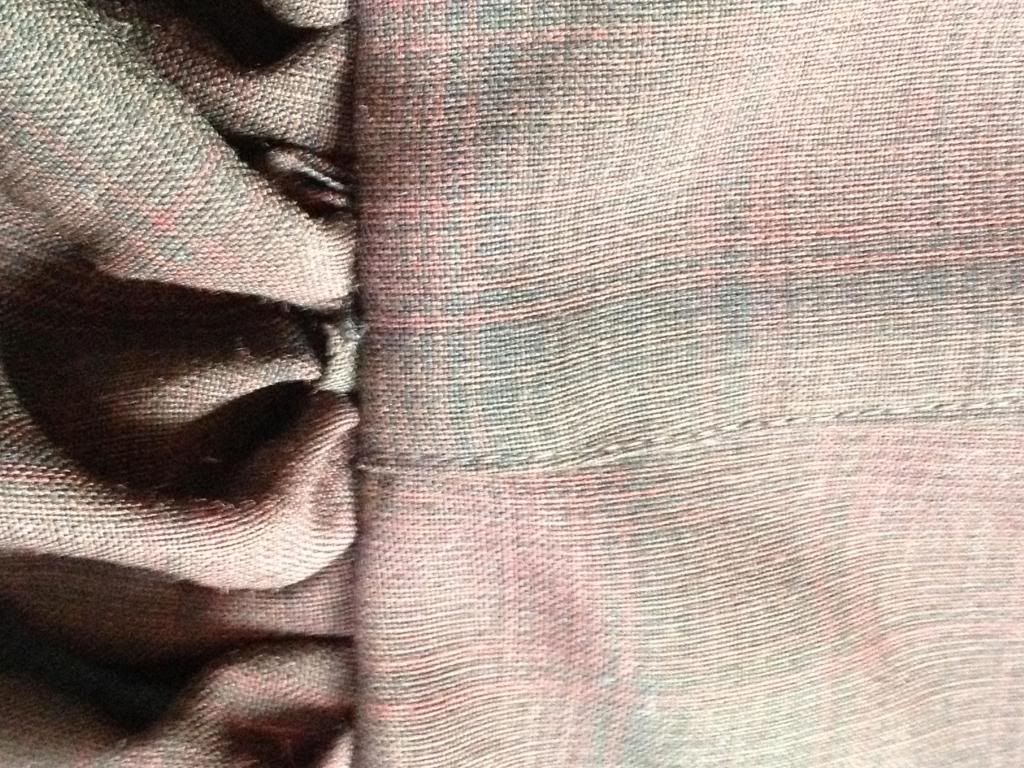 waist ties error:

Picture of shorts: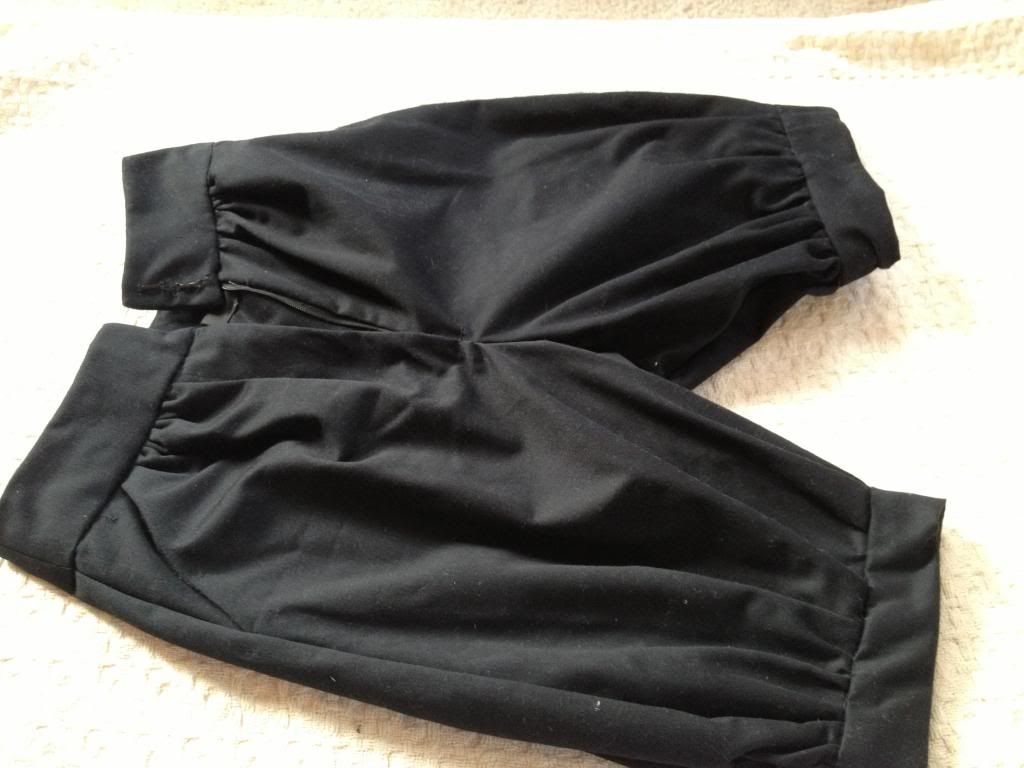 Inside of shorts: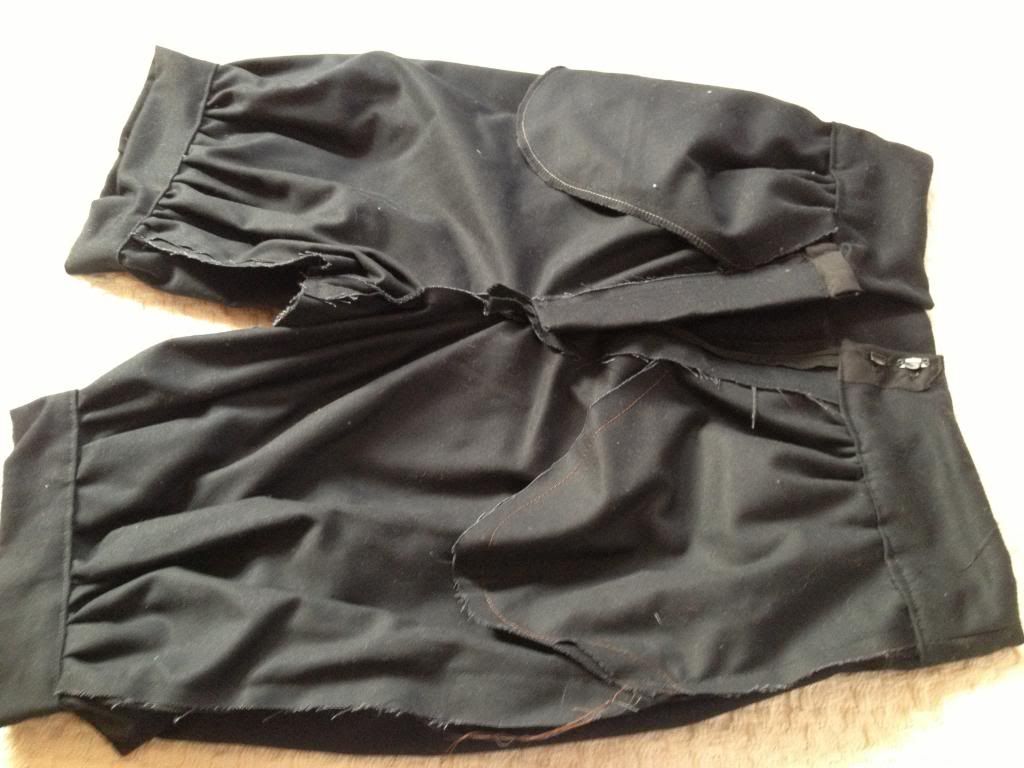 Rating:
Construction: 1 out of 5
-Bit of extra bodice sticking out between skirt and bodice seam
- bodice doesn't have symmetrical gathering on both sides, one side sticks up
- front of bodice dropped seam
- waist ties not finished at attachment point, and not in the bodice seam
- awkward fit, in the bodice and the back of waist ( too much shirring)
True to stock/ fit: 3 out of 5- ignoring errors, it does fit okay.
Communication: 2 out of 5 at times communication was very good. Others it was pretty much non-existent.
Shipping: 2 out of 5
Took way too long.
Biggest flaw: Serious construction errors.
Total: 9 out of 20
Notes: I am not really sure whats going on here all these mistakes look lazy or rushed to me.Just sloppy. The base work it solid there is no reason for the mistakes. I don't really see this jsk as wearable. I will not be purchasing from this brand again nor would I recommend them.


The Snow Field: Skirt and petticoat
I ordered one of the Snow Fields skirts back in the winter. It was one of two left and I think has different lace then the others. This was mentioned when I purchased it. I knew when I bought it the measurements would be a little big. I tried it on once- it fit but was a little looser then I'd like. The construction was solid it was a great skirt. I wasn't able to wear it due to working in a prosthetic lab at school and it got packed neatly away until I graduated and moved home in May.
Much to my dismay, the fake leather on the corset lacing has ripped in most of the gourmets had fallen out. I was devastated. I adored this skirt, and so I contacted The Snow Field. She asked to see pictures of the damage and agreed to fix the damage for me. I said I would pay shipping both ways. She also agreed to make the shirring a little tighter for a better fit free of cost. I am beyond impressed with her, she is very friendly and genuinely helpful. I would have paid to have the skirt fixed I liked it do much, and I feel it was very fair of her to do it without cost.

Since the skirt was going to be shipped to me anyway, I took it as a great opportunity to purchase one of the The Snow Fields petties. As I had been eyeing them since they came out, I bought Type B medium puff. I like my puff to be there, but also be on the smaller side. I asked if she could hold one for me while I waited for an invoice to be paid, she agreed. After I paid both items were quickly shipped out, with combined shipping.

The items shipped the 15th and arrived on the 21st of August. Packed in a thick shipping bag, and each item was in's own sealed clear plastic bag.
Skirt: Problems all fixed! I like the looks the fix better than the fake leather, and it fits better now too.
Pettie: WOWZA! It's awesome. Seriously I love it. A lot more poof than expected, in a good way. It's soft and full and resilient. I have worn it three times for full days, it's been sat on packed up and is just as perfect the next time I put it on. I want another one in both longer and shorter lengths!

Damage pics: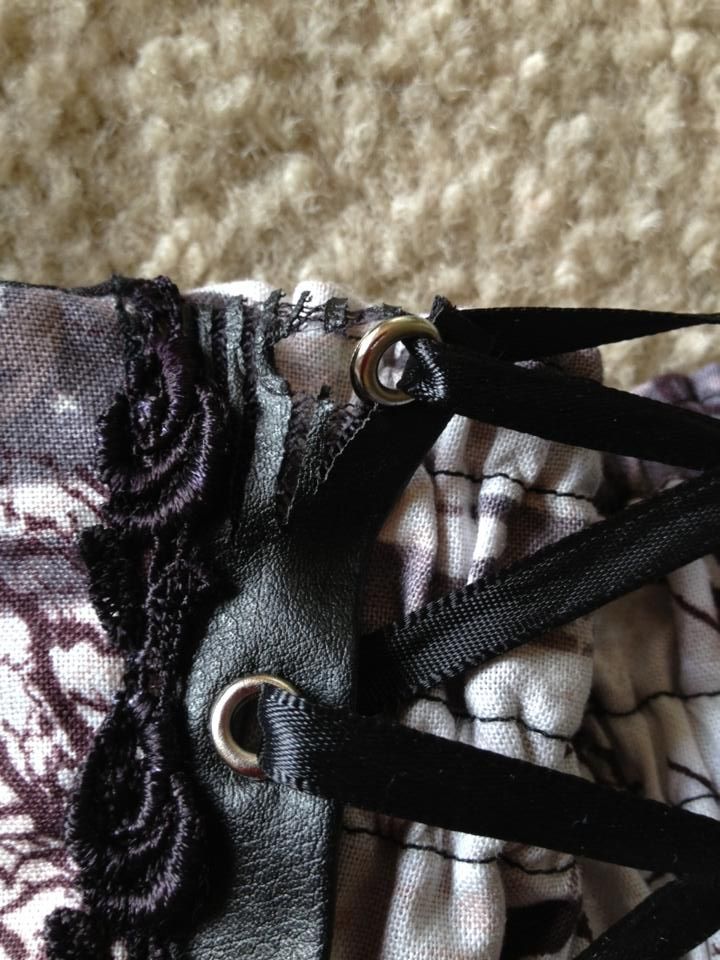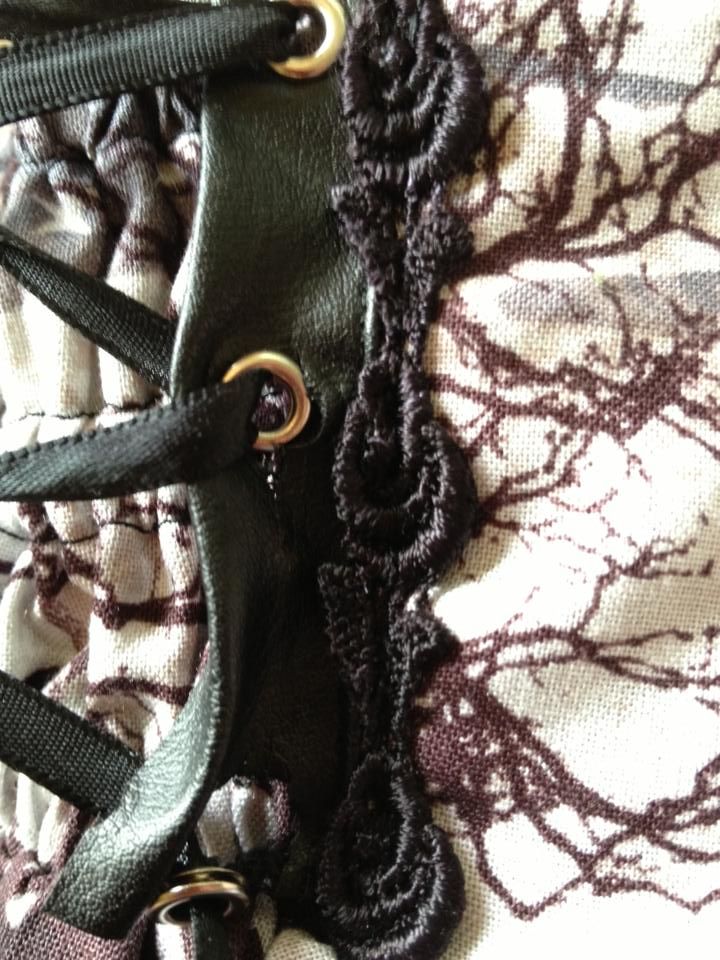 Fixed Skirt: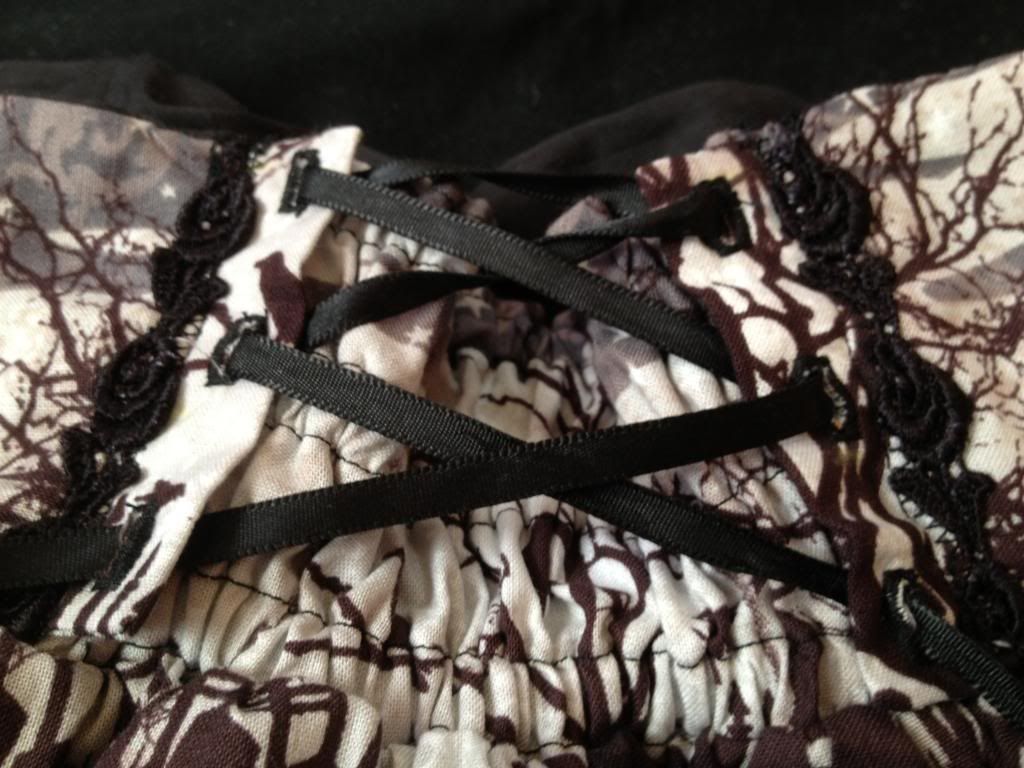 Pettie coat: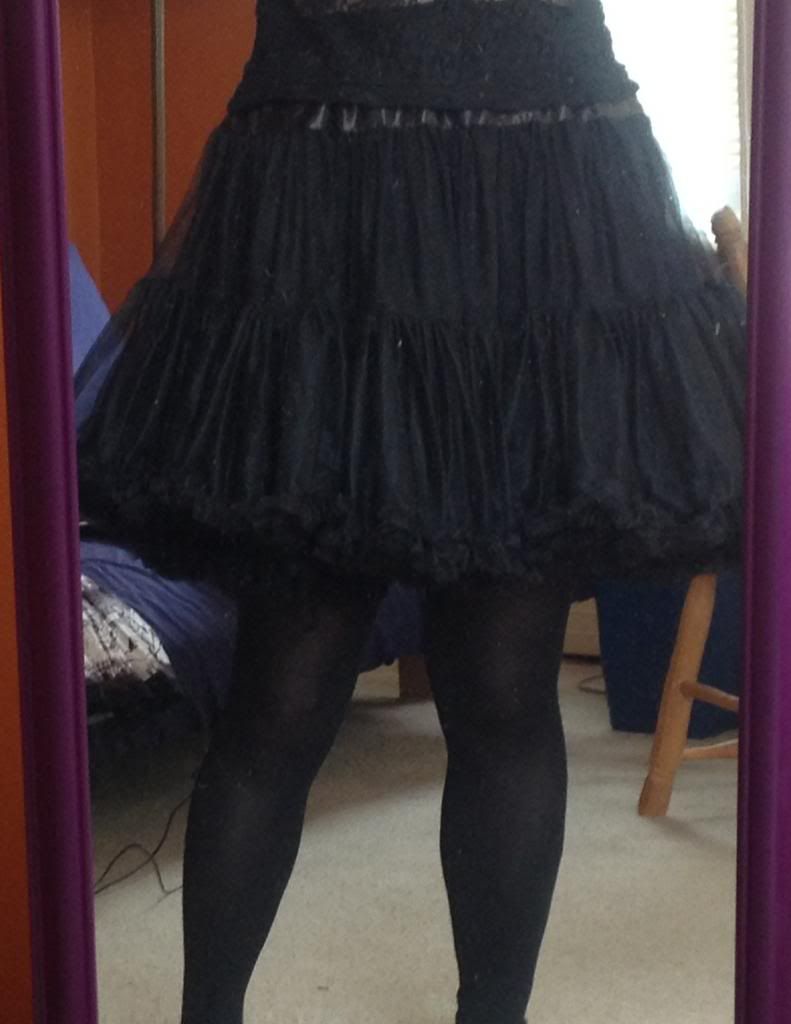 Skirt without:
Skirt with: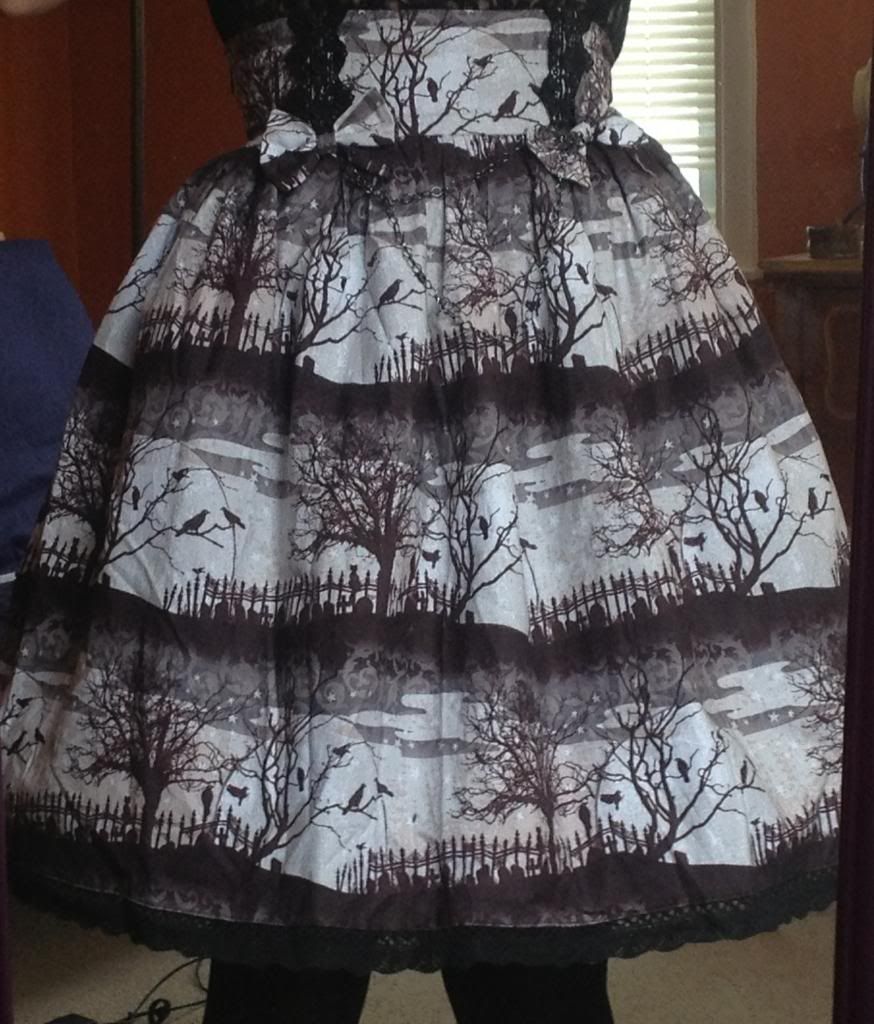 Rating:
Construction: 5/5, 5/5
True to stock/ fit: 5/5, 5/5
Communication: 5/5
Shipping: 5/5
Biggest flaw: None that I can find. Stunning work, everything is just the way it should be.
Total: 30/30
Mystery Garden- Short sleeve peter-pan collar blouse
Cost: $50 + $14 shipping
Waiting time estimate: 3-4 weeks
I noticed that Mystery Garden was taking commissions and inquired on the 28th of July the price of a short sleeve blouse in black, received the quote and requested the commission. I was told to pay half up front and the second half upon shipping. I requested that I pay later that week, and was told it was alright. Later in the week I message back requesting an invoice, was informed I would receive one- but it may be after the weekend. I gave my measurements, and waited for completion to pay the half due.
I paid the second half on and was sent a tracking number. The blouse was shipped on
This blouse is everything I hoped it would be. It is the best fitting blouse I own and I hope to order more when mystery garden is taking commissions in the future. I can't find a single flaw.

Picture:

.
Rating:5/5
Construction:5/5
True to stock/ fit:5/5
Communication:5/5
Shipping:.5/5
Biggest flaw: None.
Total:25/25
I highly recommend ordering from her. I hope order again as soon as I can.

Bow by thecomicaldream
Picture: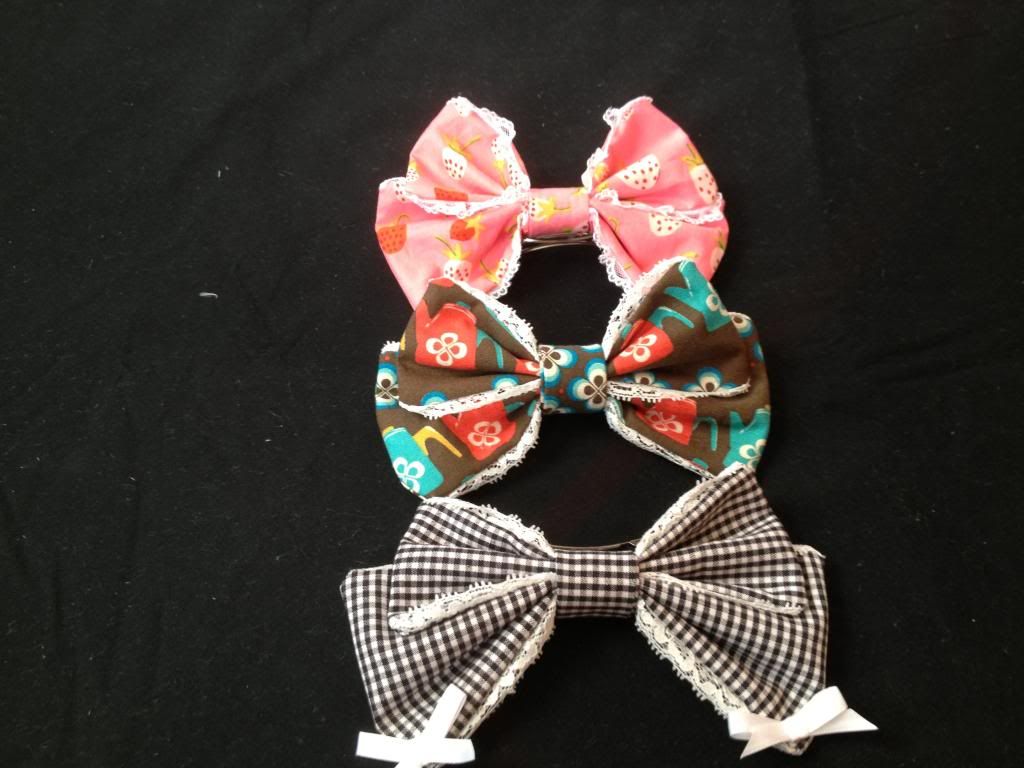 Cost: $10- shipping included
I posted a wtb on lj, she responded. I really liked her bows and the price for them, and asked if it would be possible to get a smaller version of her large gingham bow on a clip. I paid for the bow and it was shipped within two days. It arrived very quickly and I am very pleased with it. The size is exactly what I was looking for, and the gingham matches one of my favorite skirts almost perfectly.
I then asked if I could send her fabric to make two matching bows for jsk I had made, she said yes and gave me a slight discount as I paid for the shipping to her, the total was 18 usd for both bows, including shipping back to me. They were made super quick and shipped out the day after completion.
I plan on ordering more from her. These are fantastic bows for the price, personally I love how simple they are, making them very wearable.
Rating:
Construction: 5/5
True to stock: 5/5 Looks like the pictures of her sample work
Communication: 5/5- very friendly and quick to respond
Shipping:5/5- packed nicely and shipped in a timely manner.
Biggest flaw: None.
Total: 15/15
Will order from again.
wrist cuffs by Chiichick on lj
Chiichick responded to a wtb I posted on egl sales. I wasn't able to purchase at that moment and got back to her in a few weeks. I commissioned a pair of blackxblack wrist cuffs with a black non-detachable bow.
She responded quickly and invoiced me, she asked if there was a date I needed them by- I wanted to get them by the 1st of September as I wanted them in time for my birthday coord.
They arrived the day the 31st of august and included a very cute not and little broach.
They are very cute and fit nicely. Not the blackest of blacks, which honestly I like better.

Picture: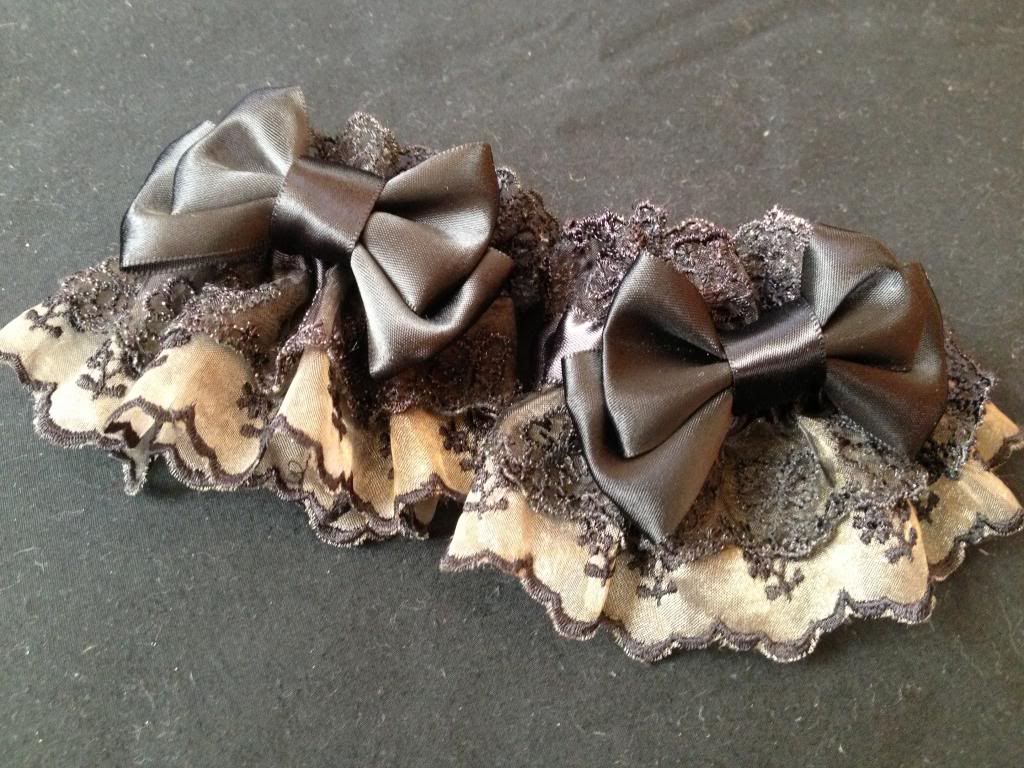 Rating:
Construction:4 out of 5- edged of lace are raw.
True to stock/ fit: 5/5
Communication:5/5
Shipping:5/5
Biggest flaw: edges of lace are raw.
Total: 19/20
headbow by familybrawl on lj

I love this bow. I wear it all the time, with everything. Its the perfect size and very well made. Plus with the large alligator clip on the back I can jump around and it won't move.
familybrawl responded to a my wtb on egl sales, I really liked her work and commissioned a blackxblack headbow. I asked for it to be smaller than most her previous work, as I have short hair and don't wear wigs and didn't want to overwhelm my head. She agreed, to the smaller bow, and that it could be put on a clip and not a headband.
Her communication is great and we've emailed back and forth for a good long while sorting out all the details. I sent her a few reference pictures of what I liked and once the style was chosen, she sent me pictures of the lace, and then took more of other options at Joann's for me. I wasn't sure which I liked best, and asked if she could sue her best judgment to pick the trim. She agreed and started right away. The next day I was sent pictures of the untrimmed bow to check on size ect. It looked great, this morning I got an email letting me know it would be finished tonight.
Bow was shipped quickly and it exactly was I was looking for, and looked just like the picture I was sent. I plan on ordering from her again.

Front: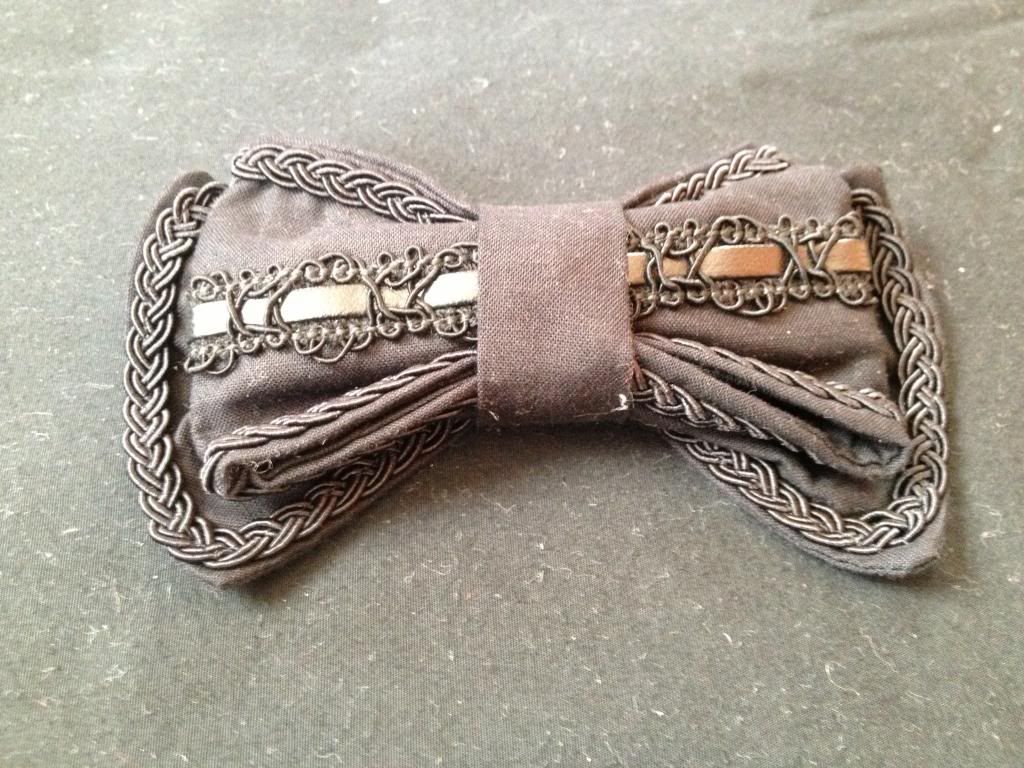 Rating:
Construction: 4.5/5- some extra hot glue on the back of the bow.
True to stock/ fit: 5/5
Communication:5/5
Shipping:5/5
Biggest flaw: minor extra hot glue on the back of the bow
Total: 19.5/20

For a while there was a lull and not a whole hell of a lot was going on- or anything worth talking about- mostly things were being sucky and not a whole lot of fun- it had a whole hell of a lot to do with the french school system (boring.) and my lack of ability to make friends. But I like to think that is remedied now- that is what I like to think.

I think- not positive yet still need to test the theory, but I think I have like actual friends now. Who like will take me places and shit. Which is cool. Sadly I don't get to see them all that much in school ( ie I see them on Mondays during lunch. And Thursday if I plan right)

This is because I am no longer in the general boring normal high school. I got moved into the lycee professional- in the cooking section. So I get to spend all day cooking two days week for the on campus restaurant which is serviced by the kids who are taking service. On the days I don't have cooking I have regular classes with both my cooking class and service kids we work with. My class is so bad.

Its amazing. I love them. I am in a class of stoner french kids. Who climb over gates and when we get locked out in the cold between classes mange to get the window open so the whole class can climb back into the warmth. When a teacher leaves the class turns into a war zone, tables turned over, boys hiding behind doors and the teachers desk, pencils, candy and erasers fly pell mell at high speeds.

It's amusing. Like really amusing. And some of the classes are actually interesting because everything is pertaining to restaurants including math and science. So that's a lot better then taking notes all day. With the bonus of high amusement. I think some one has been thrown out of class at least once every day since I moved into the class.

In other news: I moved host families again. So far things seem to being going well and they have hosted kids before so I think it defo gonna work out nicely. I also have a overly affectionate cat named Mise who likes to sleep on my feet.

I have cut my hair, so now its short choppy and purple. And am taking Karate and tai chi on Wednesdays. Which is pretty cool.T

And today I am going to a party- which should be fun. And also will hopefully mean more parties. I am determined that before i come home I am going to get a Friday night type thing going here- cuz why the hell not? And I miss looking forward to Friday night random stuff.

Also since this is my blog I get to brag a little bit and say I have been diligently working on loosing weight and am now under 150 pounds. WHEOOOOOOOOOOOOOO. (147.8 atm)

I am aiming for 140 and if i reach it I will get my belly button pierced when i get home in celebration. I have thought about this and decided it was a good idea. because, A) it looks cool, B) I will be skinny so it will look good. C) it will only look good on a skinny girl so I have permanent motivation to NOT gain weight.

Also I ordered Jeans in get this... SIZE SEVEN (from hot topic, i love hot topic jean, like a lot.) Dude I wore size 7 in like 7th grade.... this is am exciting thing. I kinda sorta didn't think it was possible for me to ever fit a size 7 again. But whateves proving myself wrrrrrong!

I am kinda of just a little bit really excited to come back home and look really fuckin awesome. Also I will not fit most lolita clothes. HELL TO THE YES!!!!!!!!!!!

Sadly I don't have the cash to buy lolita clothes (boooooooo you whore.)

BUT! when i do have the cash they will fit. And that makes me happy.
Dear lord it has been a while since I've been around here.


What I don't have at this moment: friends.

What I am dreading: Going back to school. Honestly I hate school. Like a lot. It's lonely and boring and the library sucks and its cold. Plus my class is filled with catty tasteless little children. Seriously, not even worth it. I would go into the total fail of a shopping trip but I don't even want to go there, so lets just say I went shopping with the girls in my class and it was a total failure.

I did however get the first season of Supernatural and the third season of Dexter out of it, so that was worth something- it didn't not however manage to salvage the day.

I have been dressing like a normal boring teenager and this needs to stop. Fuck that. I don't want to look like the rest of them and since I really no longer care to be-friend them I can wear whatever I want to it doesn't matter. So that will be nice.

And I have started running. Mostly because I ordered a bikini from Vicky C's and I want to be able to wear it. I have like 5-8 pounds to loose and I want it to happen and I want it to happen now. Hence the running. I need to come up with some sort of rewards system for myself to keep this happening. I want to try and go 3 times a week. Since that is all I really can do once school starts again.

But that is better then nothing right? (Right!)

So right now my legs hurt as I have only gone running 3 times so far- so in other words I will be in running hell for at least the next month until I can convince my body that yes we are once again doing this suck it up you fucker and keep moving.

I want super model legs. Mostly because I hate my thighs- they are gross, so I want to make them go away like a lot. And I figure running will help to speed this up. That and going back to weight watchers. Things in life have now calmed down enough that I can find time to do that every day and I plan to. Seriously those 5-8 pounds are going down.
Oh and I might dye my hair purple. Once I have money again- since I spent all my Christmas money already.....stuff is expensive in France- and I like nice stuff, what can I say...
So. This is what I've got at the moment. I have a awesome family to stay with, a nice room and a slowly (painfully slowly) growing wardrobe of awesome clothes.
Current Location:

bed room

Current Mood:

calm

Current Music:

Death Cab For Cutie


So school. School has been going pretty good. Last week sucked- it was long and I was exhausted and it had a lot to do with me more then the school.

So I have a really awesome English teacher- she has a wicked sense humor and is a really good teacher and I really lucked out there because shes totally looking out for me. All in all shes pretty awesome. I also have a really good history teacher, and that by far my favorite subject so that is all good.

French of the other had has been useless. The teacher talks too fast and doesn't write anything down- but that doesn't even matter because after break I will starting to take cooking classes on Wednesdays ( the day I have 2 hours free then 2 hours french- french schools end at noon on this day)

Also because of the way things have played out I don't have to go to school on Monday or Wednesday next week- the last week before vacation. I get 16 days off and go back on the 3 on January.

Friends wise- its not great yet. I'm the new kid who came in the middle of the year, and I don't speak fluent french. Puts a little bit of damper on things, plus like everyone and there mother have a boy friend and that's just annoying as they seem to be attached at the hip (or mouth) every time they see each other.

I don't really have anything in common with anyone but they are nice and that's good. So i'll just hope things work out.

So the two big things that are super exciting for me right at this moment are: My new found love for the show Dexter, seriously its really good, and keeps getting better. The first episode might put people off, but he grows on you and I sort of love his sister and girlfriend and want good things to happen to them. Plus its just interesting and has a decent plot.

The other is that last night I went to a Bristo bar/tapas restaurant with my family and saw a guy play music. It was a lot of fun and the music was really good. I really enjoyed it and hope to get to do more things like that in the future. The music was sort of folky- reminded me a lot of the sort of music that gets played local in Vermont.

Thats all I got gonnin on right now.
So it's been a while since I've update anything- but life moves on I guess.
Current Location:

bed room

Current Mood:

cheerful

Current Music:

dexter
Buses and Vampire V. Vampire
Kay
had been asleep- as one generally was at 7 in the morning on a
Saturday. Then the phone rang, and rang. Then is stopped. She
groaned, rolled over and was descending back down into dream land- a
happy place full of nice things like no more math and lucky charms.
Her mother had other plans.

She
came bustling into Kay's room, dressed in a smart suit, phone in
hand.
"Kay
honey, phone,"

"Fush
go away," grumbled Kay.

Kay's
mother rolled her eyes, fished Kay's hand out from the cocoon of
blankets and thrust the phone into it.

"What?"
she moaned. She was pretty sure only one person knew her number and
what Gerard was doing up before the crack of noon was beyond
her.

"Oh
how I've missed your cheerful voice," he said, his voice echoing
down the phone, "get up."


"Why,"
she asked, rubbing at her eyes, "and why are you even awake and how
do you not sound like a blithering moron."

"I
shale answer in order, you should get up because A. I said so and I
am always right, and B. because the bus leaves in less then an
hour-"

"Bus?"she
interrupted.

Gerard
sighed, a great rush of static down the phone, "Yeah the bus, where
have you been the last week? School trip? Bus? Really long boring
ride? Ring any bells?"

"Oh."
was her intelligent reply.

Gerard
continued, "so that answers the first two question, and the answer
to why I don't sound like total moron like you is because I'm
pretty sure I've drunk at least twice my weight in coffee, also be
ready to go in ten minutes- we're cutting it pretty close with
traffic, bye."

He
put the phone down- Gerard didn't like talking on the phone and
usually cut conversation of half way, he figured if Kay wanted to
talk to him she could walk the three whole blocks to his house and
talk to him there.
Kay
was ready when Doomsday the Fifth pulled up in front of her door-
that is to say she was dressed, and her hair no longer looked like
something had died on her head, it was not to say she was functioning
human being.

She
pulled open the door and was about to fall into the deep set seat,
only to realize that it was occupied.

"Gerard,
why is your brother sitting in my seat?"

Gerard
shrugged, "He's in our class therefore going on the trip and
needed a ride, plus he's like six two and you're a midget and
figured it be easier to cram you into the back."

She
scowled, he handed her a travel mug full of coffee. Travel mug in
hand Kay clambered into the back of Doomsday pushing empty coffee
cups and a pile of sweat shirts out of her way. When she was tucked
nicely into the back, feet sticking into the front between the seats,
Gerard floored it.

It
wasn't a long drive to school, however the heavy road construction
made it slow and tedious. The ride had so far been quite- other then
a murmur of the still broken radio. Kay sat in the back drinking her
coffee and swaying with the car.

"Jesus-
Gerard!" exclaimed his brother, as Gerard took a particularly sharp
turn, "are you trying to kill us?"

"Hey-
I found white out!" said Kay, the force of the turn had knocked the
already precious stack of junk tumbling to her lap.

Gerard
rolled his eyes, ignoring Kay, and flicked his dark bangs out of his
face, "First of all, dear brother of mine, no I am not trying to
get us killed, I am trying to get us to school to catch a bus for a
field trip that I didn't plan on going on until you happened to
tell mom it was mandatory. If it wasn't for you I'd still be
asleep, so stop complaining and hold on."

After
a few more intense turns that caused Kay to spill white out all
across her pants, ( "I just bought these!) and Gerard's brother
to squawking like come kind of exotic bird, they screeched to a
halt.

They
sat in traffic, and sat and traffic, and then Gerard pounded on his
steering wheel in frustration, and then they sat in traffic some
more. Gerard gripped the steering wheel; knuckles white scowling like
it was his job, Kay lay on her back, feet pressed to the ceiling
humming the Tetris theme song, and Gerard's brother was fidgety. His
fingers tapped incessantly on the dash bored.

Gerard
turned to his brother, " if you don't stop the tapping I am
actually going to murder you," he hissed.

"We're
going to miss the bus,"

"We
are not going to miss the bus- look we've moved a whole three feet,"
said Gerard,

"Who
are you kidding," said Kay from upside down in the back, "we are
so totally going to miss the bus."

They
missed the bus- just barely. It was pulling out of the lot just as
they pulled in. None of them particularly pleased; Kay and Gerard no
longer had a reason to be awake, and Gerard's brother was starting to
spaz, " you guys the trip was mandatory," he whined.

"And
this matters why?" asked Gerard.

"Because
we aren't on said trip- therefore can totally be punished for this,
and I for one don't want to get detention," was his brother's
response.

"Chill,
no one's going to get detention-"

Someone
was tapping on the window. He was slender, and pale. A smattering of
light freckle sprinkled over his nose, graceful brown bangs swept
over his smooth forehead. He rocked from foot to foot nervously, "Uh-
Hi, can you tell me what time the bus is due to leave?"

'Gerard
laughed, "Looks like we're not the only one's out of luck- just
missed it."

The
Boy sighed, and looked around the empty parking lot, "Awesome,
thanks I guess,"

Gerard
tilted his head, "You new or something haven't seen you
around."

"Yeah,"
he nodded, "My name's Kurt."

"I'm
Gerard, that's my stupid little brother and in the back is Kay- the
crazy I tote around in my car."

Kay
still lay on her back feet in the air, "Hey! I resent that."
Kurt
waved awkwardly, Kay waved back.

"Hey,
Kurt you need a ride?" asked Gerard.

Kurt
looked around the deserted parking lot, he smiled, "Yeah that'd be
great thanks."

"Oh
this is going to be interesting," muttered Gerard, "Budge up
Midget, we've got another one coming in."
"Gee,
you have way to much stuff back here, there is no way he's gonna
fit," said Kay.

"A
non-issue, just throw the stuff up front with brother dearest."

Kay
smiled evilly, and before he could object, Gerard's brother was
buried under a pile of paper, cups and a mixture of Kay's shoes and
Gerard's sweat shirts. The back seat was mostly empty and Kurt
climbed into the back with Kay, "Watch out I spilled white out back
here earlier," warned Kay as they were pack tightly together, feet
between the seats.

Kurt
was nervous, he was just the new kid, and Gerard and Kay seemed that
had their own world, but they were talking to him, and that was a
good thing. Gerard turned in his seat and addressed the car at large,
"whats our destination?"

"Your
house-duh," said Kay.

"I
think we should follow the bus, I really don't want detention,"
said Gerard's brother.

Gerard
rolled his eyes, "and where pray tell is the bus going?"

He
got no answer, "well there goes that idea," he said, "right
onward to The basement, lady and gentleman, we are now departing."
He
stepped on the gas, and the car roared out of the parking lot. Kurt
kept quite while the other occupants argued ("No, you just
wrong!"). He was getting dragged along for the ride, and hoped they
didn't just leave him some where, he didn't know his way around at
all.

"Gerard
this isn't the way home," said Kay.

"De-tour,
I don't want to sit it traffic for the rest of my life," he
responded.

Many
terror filled moment later Kurt found himself parked haphazardly in
front of a white house. "Welcome to the house of Gerard," said
Kay, as Kurt followed her into the house. She headed straight for the
kitchen, and stuck her head in the fridge. Kurt stood awkwardly
behind her, looking around the, room.
Kay
pulled her head out of the fridge, "Gerard- you brother drank all
the milk again," she shouted.
"What's
new?" asked Gerard from behind Kurt- who jumped and let out a very
unmanly squeak.

"Chill,
seriously, now that you're here were friends, and following the
prescient my house now also partially belongs to you, so do what
ever, just don't catch anything on fire," he sent a very pointed
look at Kay.
Spoon
of milk-less luck charms poised at her mouth she glared, "That was
one time,"

"Yeah
it was also my bed."
Kurt
followed them into the basement- or Gerard's room. The rooms looked
sort of like a cave, a massive bed was near the bottom of the steps,
piles of cloths, drawings and books covered the floor, except for the
space at the foot of the bed, in front of the TV surrounded by video
games and movies.
"Ah,"
said Kay throwing herself on the bed, "The Basement, how I missed
you,"
Gerard
whacked her in the face with a pillow, "You were here
yesterday,"
"Shhhhhhhh"
As
the morning turned to afternoon Kurt become more comfortable with his
two new "friends" the three of them were sprawled on Gerard's
bed, Kurt answering the myriad of questions about his old school;
Gerard's brother decided to join them, box of piping hot pizza in
hand.
They
dug in, "Okay, Buffy?" asked Kay mouth full.

Both
brother's groaned. "More Buffy? Can't we watching something else?
Supernatural? NCIS?

Movies?
Anything but Buffy," pleaded Gerard.

"What's
Buffy?" asked Kurt.

All
three of them looked at him, eyes wide, "Okay, Buffy it is," said
Gerard.

"What's
Buffy?" asked Kurt again.

"Buffy
the Vampire Slayer, only like one of the best TV shows ever," said
Kay, adding as an after thought, "Gee you should make him take the
oath."

"Oath?"
Kurt was still confused.

The
Netflix loading bar steadily climbed across the TV screen, "Repeat
after me, no mater how much I may dislike Spike I will always like
him better then Angel."

Kurt
repeated. Time passed. The pizza was eaten, and Buffy was watched,
and night fell. Lemon bite Kay, Kay yelled, Gerard laughed. And Kurt
decided that missing the bus was best thing that had happened to his
since he moved.
Current Location:

bed room

Current Mood:

chipper

Current Music:

Paramore- fences
I am going to a private school- there will be 19 kids in my group/class type thing.
I am not looking forward to starting school- but it has to be done. How else with I learn and make friends?
So since I don't want to really think about that I'll give you a run down of my weekend.
Friday: Marie and her friend leave to go to her friends house for the night after keeping me up half the night.... dear god 14 year old girls giggle a lot.
After dropping them off- I got to go this huge like once a year type market- which I didn't get picture of since I forgot my camera. It was a little overwhelming it was so big. And i got these really yummy fried doughy things that were covered in powdered sugar and that was pretty much my dinner.
Saturday I went to the market with my host parents- which was fun. I got Pictures!
And later I met a girl who is staying in a town nearby who's form Australia and is staying here until Feb. I think.
She's cool, and maybe I will have an English speaking friend to do things with which would be nice.
Then today not much happened in the morning. But in the afternoon my host parents took me to this mid-evil village that was super pretty and I have pictures of that also.
Here are some of the pictures I took.
Market in my town.
more market.
street in town.
town I went today
I start school tomorrow.
Current Location:

Kitchen Table

Current Mood:

calm

Current Music:

paramore-miracle


Today I have gone grocery shopping, made cookies and went on a walk with the mother and its only 6:04. That's the most I've gotten to do in a long time. So that's nice- I think I will be happy here for the duration of my stay however short it maybe. I talked with the mother, says that she likes me and will say good things about me but that she is hesitant to have me stay for good because she had breast cancer and is still very tired. Totally understandable-I hope that the next family is as nice and encouraging and patient as this one has been so far.

The frustrating is that CIEE is still convinced I have not been trying anything and I have been put on probation to be sent home if they don't see "improvement in effort and general behavior"

Fuck that. Seriously. I have not done a damn thing wroth sending me home. I was starting to understand my classes, I was starting to make friends- I lived with people who didn't want me and ignored me and lectured me like it was their job- color me not surprised I wasn't happy and didn't want to be there.

Whatever- I don't know what else to do but keep doing my best. I responded to the email pretty much saying that I tastefully disagree with a few points- I guess in some ways I am really unimpressed with their operation. Yes I got moved families- yes that's what I wanted, but nothing got resolved, and they have no idea what really happened and once again every thing is my fault. I'm sorry communication is between two or more people. One person can not create communication if the other party wants no part of it.

Anyway so at the end of my stay here I may get sent home if CIEE things I am still not trying (LIES) which I doubt will happen but at this point who knows. A little part of me in annoyed and sort of wants to be like well fuck you- I'll go home and I'll have great time so there. But I really do want to learn french even if going home and such would be easier.

Also tomorrow the mother is taking me to a shop that sells tea- which is super exciting. They drink tea! And have a kettle and everything- its electric and super niffy. I do have this to say the food I've had here has been a lot better then before- its not fancy or anything but its healthy and tastey and I think that is more important. They has whole wheat bread and I actually like it- if the slices are thin its really good. I have also realized I like zucchini- i still however do not like mushrooms or most fish- shimp is eatable but not preferred

I guess I am in a rambley mood I don't know why. Oh- also they put vanilla beans in with the sugar- it tastes great and smells really awesome and we are going to make yogurt this week. I had some homemade last night with the vanilla sugar it was sheep milk yogurt it was really good.

that is all I think.
So far I very much like the family I am staying with- they are helping me with my french and when I make a mistake they correct me and I repeat the correct sentence- which is helpful- I have spoken more french in the last day or so then I think I did in a week other wise- because they talk to me. And ask questions and listen and sometimes ask clarifying questions- you know like how normal people hold a conversation.
Current Location:

bed room

Current Mood:

chipper

Current Music:

The Boy Done Wrong Again- Belle & Sebastian


Its amazing how quickly one gets attached to a high school. So much time is spent there, and even tho I haven't really made friends yet there will be people that I miss, that I miss a lot. And most of those people I wasn't able to say good bye to and will most likely never see again.

Still I can only look toward the future and hope that where ever I end up is where I am meant to end up. I will make the best of this. And hope things will be better then they have. Maybe the next school will be better- maybe I'll make friends very quickly. I doubt the making friends very quickly part but who knows.

I will try and update once I am in my new home- where I will only be staying for around 20 days, after that your guess is as good as mine as to where I will be. I have packed my things- it didn't take as long as I though it would, only about an hour. I get picked up at 3:30 tomorrow and then I am off on an adventure that hopefully will have a happy ending. Wish me luck.

If you read comment! They make me happy for realz
Today I found out that I had a new family and would be moving tomorrow. I was over joyed. And then I found out I had to change school and I was very sad.
Current Location:

couch in France

Current Mood:

gloomy

Current Music:

French TV